The development strategy
Our market strategy involves complex supply of full assortment of metallurgical products, wide range of construction materials and services to rehab and construction market as well as production plants.
Our clients include both domestic and foreign companies representing construction industry in general (industrial building, housebuilding industry, public building sector) as well as production plants of the whole variety of branches of industry. We offer our services both to large contractors who purchase enormous quantities of goods and small companies, individual clients and natural persons.
Our offer is constantly being expanded and is based on reliable, qualified suppliers and producers, what ensures that we sell only materials of the highest quality, confirmed origin, certified ones and those which possess all the required attestations. List of our suppliers is constantly being expanded of new contractors from Poland and Member States of the European Union, and this is all to satisfy our customers' needs.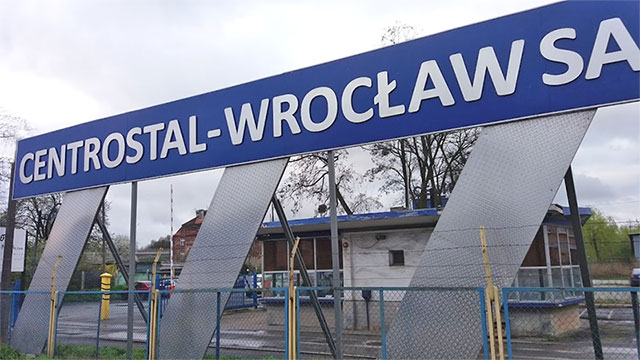 In 2007 we also initiated a range of investments which are to broaden the offer of our services. The newly built halls have been used to start production of reinforcement prefabricated units of bars of diameter up to 40 mm and to run the automatic metallurgical products cleaning line (sections, metal sheets, steel construction parts). However, we are planning further development of our services for 2008.
Our sale network that has been developed for the last few years covers the provinces of Lower Silesia and Lubusz. Our warehouses which are the points of customer service at the same time are situated in the following places: Wrocław, Legnica, Wałbrzych, Głogów, Bolesławiec and Żary.
In order to improve quality of management, and what is even more important, quality of customer service we have implemented quality management system according to the norm PN-EN ISO 9001:2001. It was certified by renown, independent unit that is the Polish Centre for Testing and Certification and confirmed with a certificate of the IQNet International Certification Network.
In 2005 and 2007 our company was regarded a member of the Club "Business Gazelle", a group of companies that had been developing in the most dynamic way according to the rank prepared by "Business Pulse".